Fire Door Schedule
This clever tool allows you to measure your current productivity levels & see exactly what little improvements in productivity have on your Net Profit. It's Brilliant!
Claim your

FREE

productivity tool today!
Fire doors are vital pieces of safety equipment that can help prevent the spread of fire through buildings.
So, fire doors must be designed and manufactured to the right specifications to ensure they have the correct level of fire resistance. This is an essential process as incorrectly manufactured fire doors can cost lives.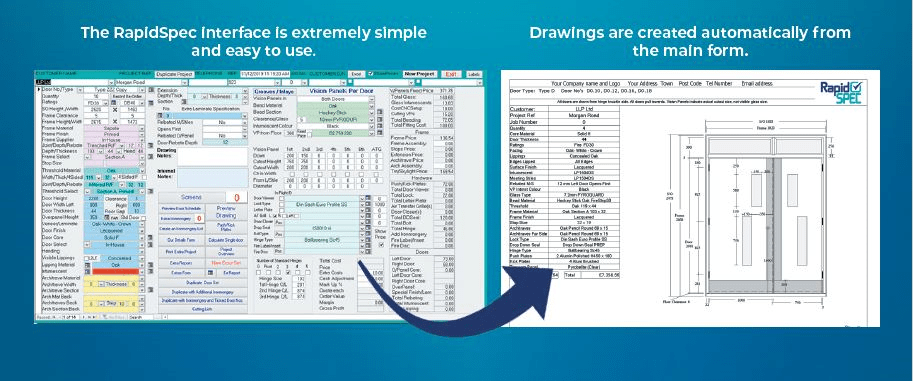 RapidSpec Door design software allows door manufacturers and designers to quickly and simply create accurate fire door schedules from standard specification sheets. To create a fire door schedule the operator only needs to input the dimensions of the door and answer a few simple multiple-choice questions.
The software will then produce an accurate fire door schedule complete with diagrams, dimensions, project estimates and bill of materials. The manufacturer can then use this document to create the final fire doors to the right specification without costly amendments.
Who uses RapidSpec?
RapidSpec is used by door designers, architects, manufacturers, and fabricators to produce accurate fire door schedules. The software is easy to use and automatically produces accurate fire door design documents that can be used by professional fabricators.
Benefits of using RapidSpec?
Produce designs quickly
RapidSpec design software allows operators to produce fire door schedules quickly. The software automatically produces designs from predefined specification sheets, with the process only taking  minutes sometimes seconds to complete.
Reduces errors during fabrication
The accurate design documents produced by RapidSoft allows fabricators to make the door to the correct specification. This is particularly important for fire doors because the use of the wrong materials can compromise fire safety.
Ease of use
RapidSpec software is easy to use with only minimal operator  training (1 -2 hours) required to produce accurate doorset documents. FREE training is provided with all new purchases of RapidFire software to get operators up and running quickly.