Door Scheduling
This clever tool allows you to measure your current productivity levels & see exactly what little improvements in productivity have on your Net Profit. It's Brilliant!
Claim your

FREE

productivity tool today!
Creating an accurate door Schedule is normally a complex, error prone, time consuming process. RapidSpec Door Manufacturing Software makes the task easy, fast and error free.
With virtually every item of data entry hundreds of checks are made in the background, from something as simple as ensuring the door will fit precisely in the door frame to checking the area of cut-outs in a door to ensure that the vision panel glass selected is suitable and compliant to the selected fire rating.
RapidSpec uses the existing skills of your estimators who will be able to create professional quotations immediately after as little as one hour training. The orderly input of data ensures that nothing is left out and everything is checked. From the data input RapidSpec then, AUTOMATICALLY, creates a scaled, detailed, and dimensioned door set drawing!
Using RapidSpec manufacturers can produce detailed door schedules much more efficiently than using traditional spreadsheets calculators and catalogues. Then because RapidSpec captures every piece of information it will instantly produce Cutting Lists and Bills of Material instantly without error.  This gives between 20 and 30% time saving allowing your estimators to do more selling and pricing
Who is RapidSpec designed for?
RapidSpec is designed for manufacturers and fabricators of custom and standard interior and exterior door sets. The Door Manufacturing Software can be used to automatically create door schedule documents complete with detailed scaled dimensional drawings that can be used by fabricators to manufacture and assemble the finished door with the right specification every time.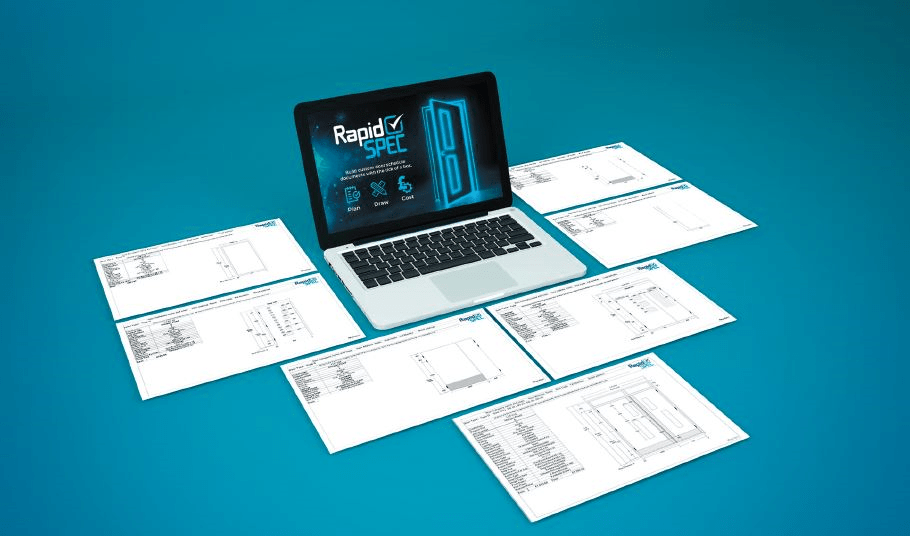 Benefits of using RapidSpec?
Saves time and money
Our accurate Door Scheduling can be used in  minutes without the need for specialist training. Existing door designs can also be modified or easily duplicated to save time and money.
Get designs right the first time
The detailed and accurate schedules created allows the fabricator to complete the door to the right specification the first time. This reduces errors and waste materials during the manufacturing process.
Easy to use
RapidSpec software is easy to use and does not require experience with CAD software like many traditional door scheduling software packages. But we also provide FREE training on the software to make sure users make the most of its powerful toolset.